M. Sinan Genim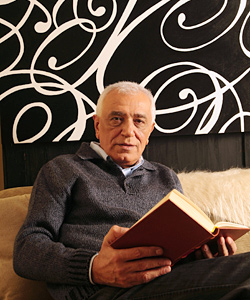 He was born in Kuzguncuk in 1945. He finished Haydarpaşa High School in 1963. He was active in the establishment of Kuzguncuk Culture Association, and also worked in a theatre. After highschool, he studied in Political Sciences Faculty in Ankara University for a while, but feeling homesick, soon returned back to İstanbul.

His architecture adventure began when he began studying in Işık Engineering and Architecture Private Faculty of Turkish High Technical Education Foundation. He graduated as an "architect" in 1969. He married to Renan [Berk], the daughter of Münevver and Nurullah Berk. Their daughter Gülter Esra was born in 1969. In 1977, their second daughter Münevver Azra was born.

He began working as an architect while he was a student at Turkish Grand National Assembly National Palaces Directorate and gained much experience in restoration projects of Dolmabahçe Palace, Beylerbeyi Palace, Küçüksu Kasrı. In addition, he worked as an Architecture History and Survey Assistant in The Academy of Fine Arts Architecture College, from which he graduated in 1971-1974. At the same time he finished his high architecture education in İstanbul Government Engineering and Architecture Academy, Department of Architecture Survey and Restoration in 1975 and did his military service.

Meanwhile, with the encouragement of Prof. Dr. Nurhan Atasoy, Sinan Genim worked in the İstanbul University Faculty of Letters Aesthetic and Art History Chair as an assistant and started his doctorate with Prof. Dr. Oktay Aslanapa, the Head of Turkish-Islamic Art Chair. He graduated with a thesis on "Settlement in İstanbul From Its Conquest to Lale Devri, Settlement Features and House Types".


His academic career continued as a lecturer in Mimar Sinan University Architecture Faculty Survey and Restoration Department between 1976-1991. After 1991, he lectured in Marmara University Faculty of Fine Arts Traditional Turkish Handcraft Department until 2007.
Genim perpetuated his work with Prof. Dr. Sedad Hakkı Eldem, a very profound architecture lecturer of Republic Turkey and sometimes made projects with İlban Öz, Alparslan Figen, Erkut Yener, Tamay Sütmen. He established Yenilem Project and Consultancy Commerce Company. Later he worked with Kemal İpek; since 1985 he has been working alone.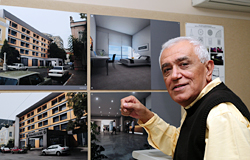 Genim became a member of İstanbul No. 2 for the Protection of Cultural and Natural Heritage Council. He bacame an observer on the subject since the establishment of TAÇ Foundation [Turkey Monument Environmental Tourism Values Conservation Foundation], of which he was the head of the administrative board between 1997-2007, and made great efforts for the reconstruction and resurgence of the foundation. Since 1985, he is among the members of Turkish Culture Foundation and Vice-Chairman of Administrative Board. He is a member of Board of Trustees in Education Volunteers of Turkey Foundation since 1994 and was among the founders of İstanbul Independent Architects and became Vice-President in the first two years.

He successfully tried active politics, became a member of Beşiktaş Municipality Assembly since 1989 and member of İstanbul Municipality Assembly between 1994-1999. In addition, he was the president of Beşiktaş Municipality Assembly between 1994-2004.

Besides the social activities through the membership of twenty one association-chamber-institution and maintaing his friendship with various people, Sinan is known with sixty seven article-introduction-bulletins, twelve exhibitions, and with restoration projects and executions in the academic world. In 1994, IV. National Architecture Exhibition and Awards, Structure Field "Conservation Art" Award was given to his project, A House in Antalya Kaleiçi [Sevgi ve Erdoğan Gönül Evi]. In 2007, Antik Dekor Journal was awarded in "Architecture" category of "100th Issue Culture and Art Awards".

Genim prepared documentaries, attended in radio and television programs while several of his articles were published in various books, journals and newspapers. His book, From Konstantiniyye to İstanbul, Photographs of the Rumeli Side of Bosphorous between Mid 19th Century and 20th Century [İstanbul 2006], was published. He is still a member of Consultancy Board of İstanbul 2010 European Capital of Culture and giving lectures in Okan University.